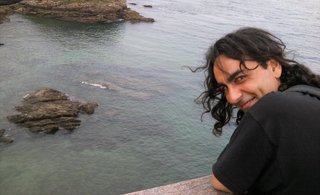 Gerard Tost (Reus, Catalonia, 1970). I work as a project manager at Editio Software, a computer engineering company in Tarragona, and I am also an amateur mountain biker. Over the last few years, I have done some cycle tourism trips, when my job responsibilities and time available made it possible.
In mid 2012, I thought of taking a long mountain holiday on my bicycle. With some college mates, we had done a section of the Transpyrenean tour in 1996, and I thought of doing it completely, from Llançà to Irún, and maybe going on a little more. When I estimated the time it would take me to get to Galicia, I decided to design a mountain bike route along the coastal perimeter of the north of the Iberian Peninsula.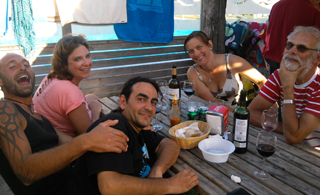 I started the Trans Pyrenees tour in October 2012 and had to abandon it due to lack of available accommodation out of season. I continued the trip from late May to mid July 2013.
Contact
To contact me, please 'like' us in Facebook and send a private message. In case you only want to receive updates or public comment, you can use the comments of this blog, or post to Facebook or Panoramio.
Why have I published this guide?
The reason why I have post it online is that, when I started designing a journey through the Pyrenees, and at the same time, through the Cantabrian coast, I did not find any routes available to do something similar along the coastal perimeter.
There was plenty of information about some alternatives to the Trans Pyrenees tour, also the Northern Route of the Way of Saint James, and some bicycle routes along the coasts of Galicia, mainly in Corunna and surrounding areas. But this very fragmented information did not connect the entire perimeter I wanted to follow, and I had to design the route with my computer, digital maps, and routes that could be followed with a GPS receiver for adventure activities.
When I finished route I had planned, I decided to publish the experience so that there would be a complete repository of GPS tracks, a list of lodges, supporting photographs, and some personal comments about each stage, and then, any person who may be interested in doing a similar trip could have some basic materials that haven't been available so far.
About this route's GPS tracks
The route was designed directly with a computer, and the GPS tracks obtained through real experience complement the initial information I had on the map. They are in GPX format if downloaded from this website, and in different final formats in Wikiloc.
The tracks in this website are of two types. On the one hand, those resulting from putting routes into practice, but there are other tracks I used to design the routes at first. The reason is that, in the middle of the trip, by mistake, I reset the configuration of the automatic recording of the route followed by my GPS, so I had to use the original versions and touch them up in my computer stage by stage. The routes are right and can be followed, but sometimes, there is some information inserted in the tracks that can cause statistical interpretation problems.