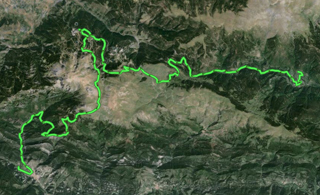 It is a long stage as compared to the previous ones, but normal length in the classic Trans Pyrenees tour.
You go up from Planoles to La Molina ski resort along paths and, occasionally, you cross some roads. You don't enter the town of La Molina. There is a very dangerous descent which finally goes through a forest and reaches the road which takes us to the town of Masella.
After that, you enter Cadí Moixeró Natural Park, and there is a long, steep ascent to Masella ski resort and a long path to Pal mountain pass. From Pal mountain pass to Bagà, we have to go down a road for a few kilometres, with one water source beside the road halfway.
In Bagà, there is a campsite called "Bastareny", a family business with minimum but enough facilities.
Stage 8 in Wikiloc: http://en.wikiloc.com/wikiloc/view.do?id=4973241
GPS Track for Stage 8 download: http://goo.gl/rpjnYU
Distances:  Masia Can Fosses campsite –  Bastareny campsite 62 km
List of villages:
Planoles
Fornells de la muntanya
Toses
Masella
Bagà
Price of accommodation: 11 euros.
References: Càmping Bastareny. Ctra. Gisclareny s/n. Bagà. Tel +34.938244420