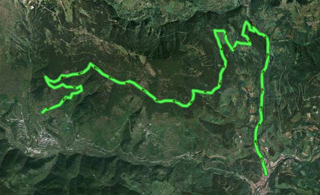 It is a short stage, due to some mechanical incidents with my bike, which made me stop for some hours before leaving Ribes. In the end, I have only pedalled for three hours, and I have devoted my time to being a tourist in the settlements I've crossed.
I spend the night in "Masia Can Fosses" campsite, at the entrance of Planoles.
Stage 7 in Wikiloc: http://en.wikiloc.com/wikiloc/view.do?id=4973198
GPS Track for Stage 7 download: http://goo.gl/t4LeRX
Distances: Vall de Ribes campsite – Masia Can Fosses campsite 20 km
List of villages:
Ribes de Freser
Rialp
Vilamanya
Planoles
Price of accommodation: 12 euros.
References: Càmping Can Fosses. Camí Can Fosses, s/n. 17535 Planoles. Tel. +34.972736065. www.canfosses.com