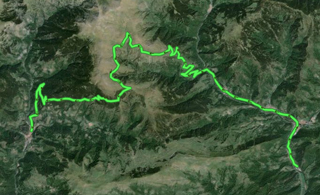 We leave the campsite and go along the road to Camprodon, go on up to Vilallonga de Ter, and after going up a little more, we leave the road and take trails in good conditions up to the two core areas of Tregurà, about 14 km away from our starting point. From Tregurà to Ribes de Freser, we won't find any other population in 28 km, so we will have to gather water and food before we set off.
It is the first day on the route in grazing areas, 1,800 m high. Ascents are smooth, the landscape is clean, and the forest trails are in quite good conditions, but it is a very rocky land and going up on the bike all the time is complicated. At the end, there is a spectacular descent through tracks, with dusty land, but entirely suitable for bikes.
I stay in "Vall de Ribes" campsite, one kilometre from the town, which has good facilities.
Stage 6 in Wikiloc: http://en.wikiloc.com/wikiloc/view.do?id=4973143
GPS Track for Stage 6 download: http://goo.gl/DfjGsq
Distances: Càmping Vall de Camprodon – Càmping Vall de Ribes 44 km
List of villages:
La colònia Estevenell
Camprodon
Llanars
Vilallonga de Ter
Tregurà de baix
Tregurà de dalt
Ribes de Freser
Price of accommodation: 10 euros
References: Càmping Vall de Ribes. Ctra de Pardines, km 0.5. 17534 – Ribes de Freser. www.campingvallderibes.com