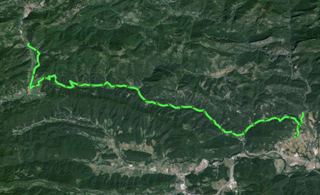 This is a much easier stage than the previous one, and we reach a hill in northern Olot city to go to the area of natural interest of Alta Garrotxa through the south, and get into the Ripollès region. Garrotxa forest, very dark and wet, is the first area of lush vegetation we see during the trip, and we won't see any other similar forest until Navarre, when we go through the Irati rainforest.
This is a quiet stage, with no surprises, but we have to be careful and pick up water during the way, since it will be hard to find sources if we do not know their location, though halfway, in Vall d'en Bac, we will find one just beside the road that can hardly be missed.
This trip is a few kilometres long, because when I went there, I wanted to visit Camprodon unhurriedly, so I arrived at a campsite a few kilometres before, called "Vall de Camprodon", and once I settled in, I went to Camprodon for a walk and to have dinner. The campsite is closed out of season, but they allow camping in some plots during October.
Stage 5 in Wikiloc: http://en.wikiloc.com/wikiloc/view.do?id=4972225
GPS Track for Stage 5 download: http://goo.gl/5HCjMT
Distances: Càmping Montagut – Càmping Vall de Camprodon 36 km
List of villages:
Montagut
Sant Pau de Segúries
La colònia Estevenell
Camprodon
Price of accommodation: 17 euros.
References: Càmping Vall de Camprodon. Carretera C 38, Les Planes de Xenturri. 17867 Camprodon. Tel. +34.972740507 www.valldecamprodon.net