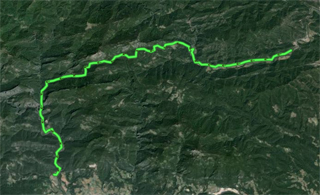 I don't have any relevant pictures of this quite short stage. My mobile phone camera has been rendered useless almost all day until I got to Montagut campsite.
It is a hard stage; at least, during this stage, it is evident that you cannot go through the Pyrenees as if you were rambling along the beach. This is the day to go up and down Bassegoda hill, crossing the area of natural interest of Muga-Albanyà and Alta Garrotxa up to Montagut, which is down the plain. There are 10 km of continuous ascent with many slopes that cannot be climbed on a bike.
We should point out that, from "Bassegoda Park" campsite, at the beginning of the ascent, to Puig de Bassegoda, the topmost point, we will not find water. Going down Puig de Bassegoda, in a trail that is in very poor conditions at first, we will found a water source 5 km away from the point where we start the descent. While climbing up is so hard, climbing down is spectacular and dangerous, and there is no need to touch the pedals until "Montagut" campsite.
Stage 4 in Wikiloc: http://en.wikiloc.com/wikiloc/view.do?id=4972180
GPS Track for Stage 4 download: http://goo.gl/B8CjPI
Distances: La Fradera in Sant Llorenç de la Muga – Càmping Montagut: 33 km
List of villages:
Sant Llorenç de la Muga
Riberada d'amunt
Albanyà
Puig de Bassegoda
Sardenes
Montagut i Oix
Price of accommodation: 10 euros.
References: Càmping Monagut. Ctra. de Sadernes, km. 2 · 17855 Montagut i Oix. Tel. +34.972287202 www.campingmontagut.com