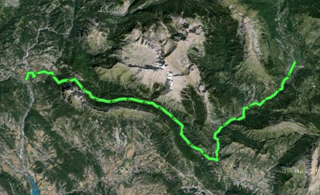 Today, I have returned to the Transpyrenean route —I've been to Campo by road and, from there, to Senz through trails. All the way was up and down, quite difficult due to slopes and the poor conditions of the forest trails. The weather is unstable, and I have found snow along the way, the same I could avoid in Catalonia by taking alternative road routes.
The first part of the day consisted in going up tracks and paths to avoid ravines of the area, such as La Garona, and I passed by the mountain shelter L'Ostacho, an interesting alternative to sleep if the night falls while we are here.
The second half of the day consisted in going around Montañesa crag on the north and I ended up descending the hill of Laspuña towards the river Cinca, up to the side of the road where Escalona is, and went up again about two kilometres to Puyarruego.
I was really going to Nerín, but there are no campsites there and the weather was quickly getting worse. At about five in the afternoon, I have finished the trip to "Valle Añisclo" campsite, a few kilometres before Añisclo Canyon, which I will be able to see during the next mountain day's journey.
The last two kilometres from the track are missed, but the way can be easily found since you only have to follow the route to Nerín via Escalona, and soon there are signs.
Stage 14 in Wikiloc: http://en.wikiloc.com/wikiloc/view.do?id=4973411
GPS Track for Stage 14 download: http://goo.gl/NDzwSv
Distances:  Alto Esera campsite – Valle Añisclo campsite  52 km
List of villages:
Castejón de Sos
El Run
Seira
Campo
Senz
Viu
El casal
Laspuña
Escalona
Puyarruego
Price of accommodation: 8.60 euros.
References: Camping Valle Añisclo. 22363 Puyarruego (Huesca). Tel. +34.974.50.50.96 website