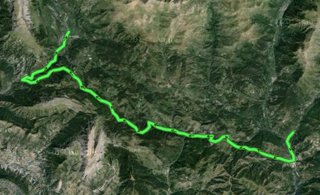 In this stage, I get to Aragón, just after leaving El Pont de Suert, and get into the region of Ribagorza.
Going up to Cirés is quite hard, but it is offset by the landscapes between Cirés and Espés, a beautiful town. I go on up to the ravine of Gabás and start going up and down along tracks in poor conditions, damaged by the rain during these days and the molten snow. Going down towards Seira is very complicated and slow, because the trail is not very suitable for cycling and is not fixed until it reaches the road.
In Seira, I decide to go to Castejón de Sos because there is a campsite there, "Alto Ésera," although this is away from the classic Trans Pyrenees route, and I get there following the gorge road. I will stay in the campsite for two days to visit the area and buy a replacement part for the bike, since in Castejón there is an adventure sports equipment store.
Stage 13 in Wikiloc: http://en.wikiloc.com/wikiloc/view.do?id=4973406
GPS Track for Stage 13 download: http://goo.gl/fbjgbI
Distances:  Can Roig campsite –  Alto Ésera campsite  55 km
List of villages:
El Pont de Suert
Cirés
Bonansa
Espés
Seira
El Run
Castejón de Sos
Price of accommodation: 10 euros.
References: Camping Alto Ésera. Tel. +34.974553456. Castejón de Sos (Huesca) www.alto-esera.com