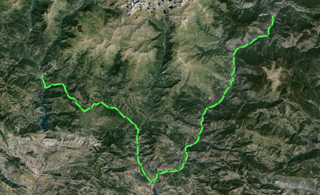 I go straight to El Pont de Suert by road, since the route I was supposed to take cannot be followed these days. The weather conditions are terrible, and there are several meters of snow on the trails around Parc Nacional d'Aigüestortes. They cannot be used until they are cleaned or the snow melts.
Going to La Torre de Cabdella by road transportation and trying to get to the planned destination through paths will take me the same time as going straight to the final destination by road, so due to the bad weather, the best option is to go to El Pont de Suert via Sort and La Pobla de Segur.
I stay in the "Can Roig" campsite, next to El Pont de Suert and towards the Vall de Boí, a welcoming and properly maintained place.
Stage 12 in Wikiloc: http://en.wikiloc.com/wikiloc/view.do?id=4973353
GPS Track for Stage 12 download: http://goo.gl/TtUWTt
Distances:  Riberies campsite –  Can Roig campsite 80 km
List of villages:
Llavorsí
Rialp
La Bastida de Sort
Sort
Ribera de Montardit
Baró
El compte
Gerri de la sal
Conca de dalt
La Pobla de Segur
Senterada
Sarroca de Bellera
Perves
Viu de Llevatà
Gironella
El Pont de Suert
Castilló de Tor
Price of accommodation: 10 euros.
References: Càmping Can Roig. 25520 El Pont de Suert (Alta Ribagorça). Tel +34.973690502 www.campingcanroig.cat