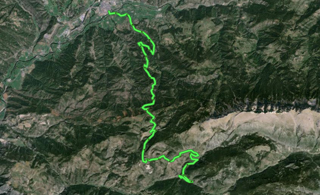 Yesterday, October 9, I carried out a thorough search of all the lodgings that will be open in the Pyrenees throughout the fall. It is not certain whether some of those which were supposed to be open this season will finally offer services, because the mushroom season has been delayed and they cannot have the facilities empty, waiting for guests. On the other hand, the establishments which are always open are pretty expensive for the budget I have planned, and there is no guarantee that there will be available lodgings on the stages I have planned, even making small changes.
I've decided to end my holiday and come back in spring, 2013, with the great experience I've gained and better expectations as regards accommodation, because the weather during the first ten days of October has been good.
I leave Molí de Fòrnols towards La Seu d'Urgell along roads, taking a different way from the one I could follow through Pla de Sant Tirs along the route that is marked, but the weather forecast is not good and I want to make sure to be in La Seu by midday, so I can use the public transport and come back home.
Stage 10 in Wikiloc: http://en.wikiloc.com/wikiloc/view.do?id=4973283
GPS Track for Stage 10 download: http://goo.gl/ZTiAHv
Distances:  Molí de Fòrnols campsite – La Seu d'Urgell 36 km
List of villages:
Cornellana
La Vansa i Fòrnols
Fòrnols
Adraén
El Ges
Cerc
La Seu d'Urgell