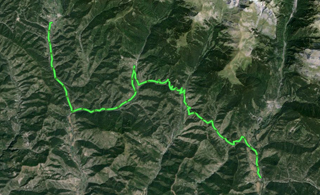 This stage leads to Aragüés by a mountain road, so the classic Transpyrenean Route is not altered, but I've made a minor variation from Aragüés, since I am following the advice given to me by people who know the area I would have to pass by and who have told me the conditions of the paths are disastrous. I have changed the planned trip and gone by route from Castiello to Hecho, where there is a campsite, instead of reaching Navarre via Urdués.
The stage by mountain road has an interesting landscape, but it is not as fun as the forest trails. But there are not many mountain trails in today's stage, and there are many trails that are not suitable for cycling, due to the conditions of their surface and the vegetation that gathers on them. Anyway, they are fixing the local road connecting Aragüés with the provincial road A-176, the one which leads to Hecho, and this experience is like cycling along unpaved tracks.
I arrive in Hecho very soon, at about 2 p.m., but instead of going on to Roncal, I will stay in the municipal campsite "Valle de Hecho". The Trans Pyrenees route goes on just by the campsite, so tomorrow I won't have to make extra kilometres to come back to the marked route.
Stage 18 in Wikiloc: http://en.wikiloc.com/wikiloc/view.do?id=4973438
GPS Track for Stage 18 download: http://goo.gl/p3FV17
Distances:  Solopuent campsite – Valle de Hecho campsite  43 km
List of villages:
Castiello de Jaca
Aratorés
Borau
Aisa
Jasa
Aragüés del Puerto
Hecho/Echo
Price of accommodation: 12.5 euros.
References: Camping Valle de Hecho. Ctra Puente la Reina s/n – Hecho/Echo. Tel. +34.974375364 www.campinghecho.com