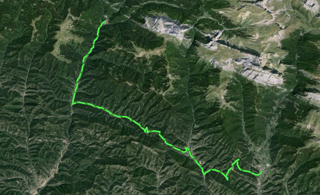 Today, I have also decided to travel by road. This is because I would like to pass by Roncal, and if I follow the Trans Pyrenees route, when I arrive in Ansó, I will have to divert northward and enter Navarre from another site.
I travel by road from Hecho to Ansó, a very picturesque town which is worth visiting. From there, I go to Roncal Valley by road and I get into Navarre. I cross the mountain pass separating the two provinces, and I go down to Garde, at the bottom of the valley, and from there, to Izaba, It is a very short and quiet stage, by road. You go up two mountain passes, and all the landscapes are worth seeing.
In Izaba, there are no campsites, but there is a good accommodation offer, including the "Oxanea" hostel, where I spend the night. The atmosphere is very good, since all the hostel guests are hikers or cyclists, there are no conventional tourists.
Stage 19 in Wikiloc: http://en.wikiloc.com/wikiloc/view.do?id=4973445
GPS Track for Stage 19 download: http://goo.gl/ezG3zY
Distances: Valle de Hecho campsite –  Oxanea hostel  38 km
List of villages:
Ansó
Garde
Roncal
Urzainqui
Izaba
Price of accommodation: 13 euros.
References: Aterpe Oxanea. Izaba (Nafarroa). Tel. +34.948893153