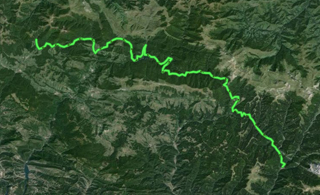 The first part of this stage is by road. You go up two mountain passes, of progressive difficulty, until you get to a high point of 1,300 m. In this point, you start moving along the forest trail, and you enter the natural park of the Irati rainforest, the biggest forest in Navarre. Almost a third of the stage is done in Irati, and it is a spectacular landscape. When you go out of Irati, you follow village roads to the weapons factory of Orbaizeta, and from there, you go up forest trails to Orreaga.
Orreaga/Roncesvalles is a small town, but it is also the starting point of the French Way of St. James, and there is a slightly varied accommodation offer. I have stayed in the pilgrims' hostel, which is very welcoming, and I've got a pilgrim credential and been socializing. The credential will be useful if I want to use the Way accommodation network when I travel along the coast of Cantabria. Learn more of Orreaga/Roncesvalles
It is one of the few stages of the Trans Pyrenees Route that go through forests, in wet areas covered by vegetation, which hasn't been seen since La Garrotxa, in Catalonia. It is difficult, not because of the slopes or the conditions of the trails, but because it is a quite long stage. You have to carry water because, although we are in the middle of the forest, there are no water sources, and we can only get water if the ravines bring down snowmelt water or in some of the torrents near Irabia reservoir.
Stage 20 in Wikiloc: http://en.wikiloc.com/wikiloc/view.do?id=4973460
GPS Track for Stage 20 download: http://goo.gl/c671Jx
Distances: Aterpe Oxanea – Pilgrim hostel in Roncesvalles 73 km
List of villages:
Izaba
Uztarroze
Fábrica de Orbaizeta
Orreaga/Roncesvalles
Price of accommodation: 6 euros