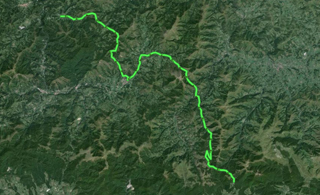 You leave Orreaga and go up a little mountain pass, Ibañeta, by road, before getting to a forest trail next to the shrine of San Salvador. From there, we will go down towards the valley of Aldudes, under French administration, in an endless and impressive descent.
The next ascent has a very steep slope, up to the mountain pass of Elorrieta, and from there, you go down to Elizondo. This is a good town to rest for a while and regain strength, since the next 25 km are really hard. Besides the poor conditions of the tracks, a great deal of the trip is along trails, and in my case, there is thick fog and intermittent rain. The landscape is spectacular, but the path is dangerous and we should be careful.
In Etxalar, there are no campsites, but I stay in a friendly hostel called "Tompalenea," owned by a very nice man called Santiago Elizagoien. It is worth sleeping under shelter because the weather is bad, and Etxalar is a very wet town. I will stay one more day in the hostel since it is raining heavily, and I will make the most of the time to have some rest for a day and prepare the next set of stages of the route beyond the Pyrenees.
I have lost my recorded track of this stage, but instead of reproducing it on the map, I provide Zinaztli's track, since my route follows exactly its steps. The main difference is that it took me two more hours to end this stage.
Stage 21 in Wikiloc: http://en.wikiloc.com/wikiloc/view.do?id=4973465
GPS Track for Stage 21 download: http://goo.gl/L52Acp
Distances: Pilgrim hostel of Roncesvalles – Albergue Tompalenea 70 km
List of villages:
Orreaga/Roncesvalles
Banca
Erratzu
Bozate
Arribiltoa
Elizondo
Orizki
Etxalar
Price of accommodation: 13 euros.
References: Albergue Tompalenea (Santiago Elizagoien). Etxalar (Navarra). Tel. +34.948635166 / +34.689702891