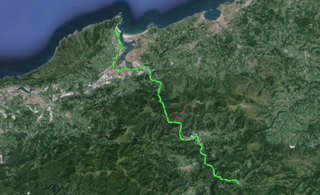 From Etxalar, I went to Bera de Bidasoa, and from there, I went down to the sea, to Hondarribia, to close the first section of the coast to coast trip. I got to the Atlantic Ocean through the Pyrenean Axis, after completing more than 1,000 km by mountain bike.
Important alternative to the Transpyrenean route
From Etxalar, I haven't taken the traditional Transpyrenean Route. My bike broke down yesterday and I don't have the proper tools or replacement parts to fix it completely. I went to a repair shop specialized in bikes, Katea-Bike, in Bera de Bidasoa, to repair it. It was a good choice —they are excellent professionals, and the prices are fair; at the bottom of the card, you'll find the information.
To go to Bera, we deviated quite a lot from the initial way, and did not pass by the French slope. The entire trip was along Spanish administration land, but we avoided the roads, and could go along a Greenway connecting Bertiz Natural Park with Irún, passing by Bera. It is an alternative to the classic Transpyrenean tour; the difference is that the whole way is down, with a smooth slope with no difficulties.
The next graph shows the differences between the classic route —right, blue line— and the alternative through the greenway —left, green line.
Interactive map of the Bertiz greenway: https://maps.google.com/maps/ms?ie=UTF8&hl=es&msa=0&msid=216807157426420720565.00049773827891a1aaebc&z=10
If we follow the GPS track I provide here, we get to Hondarribia, and then we go back to Irún, where I spend the night in the municipal pilgrim hostel of the Way of St. James. At first, the traditional Transpyrenean tour ends here, but if we use the following track, we will get to Donostia/San Sebastián, which is the final point of the new, extended Transpyrenean tour and of the Transpyr.
Stage 22 in Wikiloc: http://en.wikiloc.com/wikiloc/view.do?id=4973475
GPS Track for Stage 22 download: http://goo.gl/K9l4uR
Distances: Albergue Tompalenea – Pilgrim hostel Irún 36 km
List of villages:
Etxalar
Bera
Zalaín
Endarlatza
Irun
Hondarribia
Price of accommodation: 10 euros.
References: Workshop and Bicycle Shop Katea Bike. Kanttonberri, núm. 1 – 31780 Bera de Bidasoa. Tel. +34.948631218 kateabera@telefonica.net