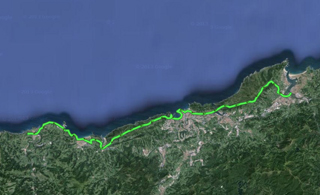 This is a classic stage of the Way of St. James, but avoids the sections which are not suitable for mountain bikes, and offers alternatives through forest trails and roads. Up to Pasaia, we go along paths and forest trails, with mild slopes, and in quite poor conditions due to the winter and spring rains. In Pasaia, we cross the sea inlet on a water taxi, and get to the end of Donostia through urban areas. From Donostia to Orio, we will go through forest trails, and from Orio to Zumaia, through coastal roads.
From Irún to Zumaia, there are many towns, the most important of which is Donostia/San Sebastián, which we will cross along the coastal perimeter, and it is a perfect place to sit and have something to eat.
In Zumaia, there is an interesting accommodation and gastronomic offer —we can find from a parish hostel of the Way to luxurious hotels. I have chosen a place that is somehow special outside the town, about two kilometres from the centre. It is called "Santa Klara", and it is a hotel with an attached building used as a hostel, with hotel comforts and special prices for pilgrims. It is a quiet place, very friendly, highly recommended for all types of tourists. What is more, if you want to walk around the town, the owners take guests to and from the town at arranged hours.
As regards the landscape offer, Zumaia leaves us speechless, both if we want to walk around the town, and if we want to visit the surrounding area, with the Itzurun beach as one of the natural references of the coast for all Guipuzkoa. It is worth seeing this beach, walking around the sea inlet, and visiting the lower urban area where the bars and the commercial and social centre of the village can be found.
Stage 23 in Wikiloc: http://en.wikiloc.com/wikiloc/view.do?id=4973491
GPS Track for Stage 23 download: http://goo.gl/XJ7HIO
Distances: Pilgrim hostel of Irún – Albergue Santa Klara 62 km
List of villages:
Irún
Pasaia
Donostia/San Sebastián
Orio
Zarautz
Getaria
Zumaia
Price of accommodation: 20 euros.
References: Agroturismo Santa Klara. Calle de los diseminados 4, 20750 Zumaia (Gipuzkoa). Tel. +34.943860531. www.agroturismosantaklara.com