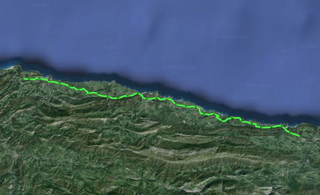 After staying a whole day in Colombres, half of today's stage will be by general roads, and the second half will be by secondary roads near the coastline, without remarkable difficulties and with smooth slopes. A highlight here can be the San Antolín viewpoint, about halfway to the end of the stage, from which you can see some of the best-known beaches in Asturias, such as Ballota and Andrín.
At first, Ribadesella was my destination of the day, but I have decided to visit the town and spend the night in San Esteban de Leces, where there is a public pilgrim hostel of the Principality of Asturias, where I can check the conditions of public hostels.
Ribadesella is a middle-sized, touristic town, a perfect place to eat and spend the night, but it is not a quiet place, and due to my tendinitis, I have to rest. You get to San Esteban de Leces after a 5 km long steep slope from Ribadesella, but the next day starts with quite a few kilometres down by road.
In San Esteban hostel, there are not many services and there is not a single bar in the city centre, but there are street vendors who sell all kinds of foods, and you can also order freshly-made food, which is delicious and at a very good price, from a bar & restaurant from a nearby town.
Stage 30 in Wikiloc: http://en.wikiloc.com/wikiloc/view.do?id=4973552
GPS Track for Stage 30 download: http://goo.gl/NFoypK
Distances: Pensión Oyambre – Pilgrim hostel of San Esteban de Leces 59 km
List of villages:
El Peral
La Franca
Buelna
Pendueles
Vidiago
Andrín
Llanes
Poo
Celorrio
Barro
Niembru
Naves
Villahormes
Nueva
Piñeres
Silviella
Belmonte
Cuerres
Toriello
Ribadesella
San Esteban de Leces
Price of accommodation: 6 euros.