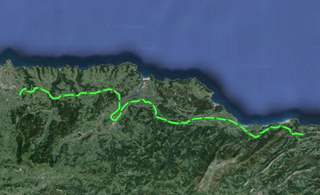 Today's stage is as long as yesterday's, but there are more mountain trails and tracks, and it is nicer to travel. Except one road pass with a steep slope, the rest of the trip has smooth slopes up and down inland, since we will only see the beach in Duesps, when we get away from road N-632.
Of all the towns we will pass by today, it is worth spending a while in Villaviciosa, the world's "apple capital" and a privileged natural environment. Our route surrounds the sea inlet from the inner part, and allows us to see interesting landscapes. Then, we follow provincial and general roads until we get close to Deva, a town five kilometres far from Gijón/Xixón.
In Deva, there is a municipal campsite with very good facilities, where they give bungalows to people with pilgrim credentials, so you can stay in the campsite as if you were in a lodge. Tonight, Saturday, June 29th, 2013, a celebration called "Orgullín del Norte" takes place, at the same time as other LGBT pride parades. There is a party with a DJ that lasts until dawn.
Stage 31 Wikiloc: http://en.wikiloc.com/wikiloc/view.do?id=4973589
GPS Track for Stage 31 download: http://goo.gl/B1YvBY
Distances: Pilgrim hostel of San Esteban de Leces – Deva campsite 59 km
List of villages:
San Esteban de Leces
Barredo
Berbes
Caravia
Carrales
Duesos
Colunga
Los Tarreros
Conyeu
Pernús
La Vega
La Llera
Priesca
La Vega
Muslera
Villaviciosa
Deva (campsite)
Price of accommodation: 5 euros.