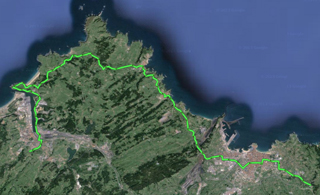 This is a short stage, but it is intense since it gets away from the Way of St. James and gets into an area of gastronomy and leisure for Asturian people, but not very well-known to tourists. It goes along large part of the strip of land of Cape Peñas, not reaching the cape, and passes by San Juan de Avilés lighthouse, along a not very urban route, and mostly by road.
From the campsite, we go down to Gijón/Xixón and pass by the Laboral University before taking a bike lane which takes us to the centre of the city. From the centre, we go to the western end, where we have another bike lane parallel to the road AS-19, which we can use for about two kilometres, or we can take the road directly to use it as a shortcut until the AS-239, a much less busy road. The GPS track is recycled from another route and is not very accurate as regards the route AS-19.
I go to Candás and arrive at lunch time, just at the end of the Octopus Festival, which brings together hundreds of visitors from outside the town, bag-pipers, and octopus sellers who come from Asturias and Galicia.
I leave Candás to go to Luando, and I turn inland until I get to the forests I will have to cross in order to reach Oviés, near the beach and down the Cape Peñas. From Oviés, I travel along a mountain road up to the industrial site "Maqua", I turn north and get to Llodero. I visit Avilés lighthouse, enter through the sea inlet and get to the city. I spend the night in Avilés pilgrim hostel.
Stage 32 in Wikiloc: http://en.wikiloc.com/wikiloc/view.do?id=4973594
GPS Track for Stage 32 download: http://goo.gl/9xcchV
Distances: Deva campsite – Pilgrim hostel of Avilés 53 km
List of villages:
Xixón
Candás
Antromero
Luanco
Nembro
La Cabaña
Oviés
Llodero
Nieva
Zeluán
Avilés
Price of accommodation: 5 euros.