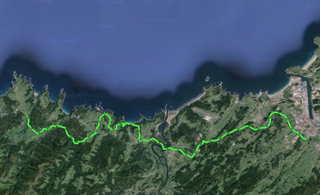 Today, it is raining and there is a lot of fog, particularly thick in mountain roads, so it will be a stage with half the trip I planned.
The first 18 km are by road and a little boring because the fog doesn't let me see a great deal. The landscape gets much livelier passing by Aguilar's beach, which is very picturesque, and I reach the coastal town of Cudillero. Local festivals are taking place and there is a nice atmosphere at breakfast time, by mid morning.
From Cudillero, there are sections by forest trails and village and general roads which are not used a lot, until I reach Castañedo and decide to go down to Soto, where there are no campsites, but there is a municipal pilgrim hostel, and I will use the credential to spend the night there.
Stage 33 in Wikiloc: http://en.wikiloc.com/wikiloc/view.do?id=4973603
GPS Track for Stage 33 download: http://goo.gl/5DyTGE
Distances: Pilgrim hostel of Avilés – Pilgrim hostel of Soto de Luiña 38 km
List of villages:
Avilés
La Lloba
Soto del barco
Era
La Mariega
Muros de Nalón
Aronces
El Pito
La Atalaya
Cudillero
Artedo
Mumayor
Castañedo
Soto de Luiña
Price of accommodation: 5 euros.