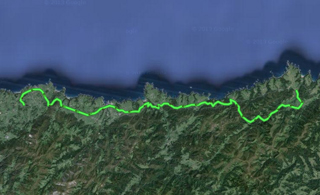 A day just as yesterday, just as rainy, so I'll have to travel carefully on the roads. Today I can hardly see anything due to the fog, but thanks to the GPS I can travel without getting lost, and I will pedal a few kilometres more than yesterday.
Most part of the trip is on not very busy roads. I went up to Castañedo again and got inland and took village roads. This is not the Way but runs parallel to it and is suitable for cycling, while the forest trails are in poor conditions. When I come back to the coastal perimeter, the route is by general roads, but they are not very busy because most motor vehicles take the freeway parallel to the coastline.
The whole trip is quite even and attainable, but for a pass between Argallana and Ballota, on the first half of the trip, and in inland mountains areas. If we have time, it is worth devoting two or three hours to visiting Luarca, when we have already completed two thirds of our trip today, because it has many attractions, such as the museum of Cepesma, with the greatest collection of giant squids in the world, or the route of indianos' houses.
I spend the night in Piñera's pilgrim hostel, a place where I meet people I have met in other hostels.
Stage 34 in Wikiloc: http://en.wikiloc.com/wikiloc/view.do?id=4973611
GPS Track for Stage 34 download: http://goo.gl/Q6Ug9s
Distances: Pilgrim hostel of Soto de Luiña – Pilgrim hostel of Piñera 62 km
List of villages:
Soto de Luiña
Castañedo
San Martín de Luiña
Argatón
Argallana
Ballota
Ribón
Cadavedo
Villa de Moros
Queruás
Canero
Caroyas
Barcellina
Luarca
Ribadebajo
Otero
La Corripia
Taborcias
Villuir
Pontigas
Las Barqueras
Puerto de Vega
Piñera
Price of accommodation: 5 euros.