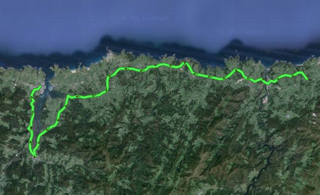 This is the stage in which we enter Galicia and we will stop running parallel to the Northern Route. It may be short or very long, depending on how much we want to pedal, since it may be 55 km or 35 km long based on what we choose —taking the crossing boat in Castropol or cycling around the sea inlet.
This is a stage without ups and downs, with mild slopes and without mountain passes, so it is very attainable to get to Ribadeo by road. We leave Piñera and head to Navia, the biggest town we'll find today, but it doesn't have many tourist attractions but for a few clean, well maintained beaches.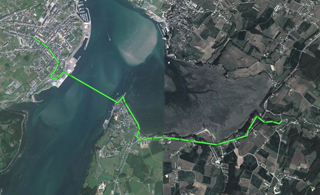 If, when we are near Ribadeo, we want to take the little water-taxi, we will have to go down the right part of the town, along Galicia Avenue, and then go towards the pier walkway. In this Web site, in the Resources section, I have written down the telephone number you have to call to contact the boatman, who only makes on-demand trips. This helps us save 20 km at a price of 5 Euros.
When we are in Ribadeo, there are a lot of lodges available, and there is even a public hostel of the Way of St. James of the Xunta de Galicia. In my case, when I passed by the hostel, I met some people I had seen some days before, and I decided to camp next to the hostel, authorized by Ribadeo government.
Stage 35 in Wikiloc: http://en.wikiloc.com/wikiloc/view.do?id=4973623
Crossing boat in Wikiloc: http://en.wikiloc.com/wikiloc/view.do?id=4973616
GPS Track for Stage 35 download: http://goo.gl/j6m0iI
GPS Track for crossing boat download: http://goo.gl/ZpC2ux
Distances: Pilgrim hostel of Piñera – Pilgrim hostel of Ribadeo 35 km (or 57 km without taking the crossing boat)
List of villages:
Piñera
Frejulfe
Andés
Navia
La Reguera
Ortiguera
Medal
Lugar Nuevo
La Caridad
Viavélez
La Muria
Ol
Cabaleiros
Becharro
El Esquilo
Castro
Castropol
Cornayo
A Veiga
Porto de Abaixo
As Casasnovas
Ribadeo