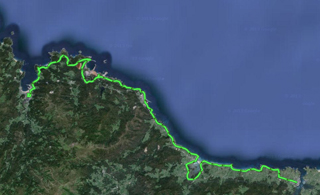 Yesterday, I read in La Voz de Galicia that, in the town of Foz, they celebrated an official recognition ceremony for Camiño do Mar, an extension of the Northern Route. So, an association of friends of the Way of St. James is promoting a coastal branch of the pilgrimage. It is a coincidence, but the route we designed for northern Iberia also goes along Camiño do Mar, so today's stage will be completely along the coast and I will be able to collect some uncommon stamps on my pilgrim credential.
You leave Ribadeo towards the western coast, along paved paths parallel to the beaches, although we will never go down to the water, which is a few meters away from our level. There is a lot of fog and it is raining, but the landscape is worth seeing, and we can cycle easily.
We pass by little picturesque towns in a very long sea path which is paved or has cobblestones, and connects almost all the towns from Ribadeo to Burela, about 50 km long. From Burela to Viveiro, there are more road sections, but they are not very busy. The pier at Morás harbour is curious, 25 km far from our final destination, built on the surface with concrete pieces which are typical of the pier bottom, spread along the coastline.
We only have a hard slope 10 km before Viveiro, but it is not extremely exhausting, and so today's stage has a minimum difficulty although we have travelled almost 100 km.
Finally, I will stay in Viveiro's municipal campsite, located in the administrative area of Covas. It is a town in Rías Altas, with an intense cultural life, visited mainly by tourist from Galicia and Asturias. This weekend, they happen to celebrate their traditional Renaissance Market, and everybody dresses up like people from this age. I will stay one more day here to attend this medieval festival.
Stage 36 in Wikiloc: http://en.wikiloc.com/wikiloc/view.do?id=4973626
GPS Track for Stage 36 download: http://goo.gl/j7xPR0
Distances: Pilgrim hostel of Ribadeo – Viveiro campsite 96 km
List of villages:
Ribadeo
Rinlo
Barreiros
Foz
Nois
Cangas
Burela
San Cibrao
Lieiro
Lago
O Alto do Lago
Morás
Vilapol
Portocelo
Vilachá
Faro
Auga Doce
Celeiro
Viveiro
Covas
Price of accommodation: 10 euros.
References: Camping Viveiro. Cantarrana, s/n, Praia de Covas. 27837 Viveiro (Lugo). Tel. +34.982560004 campingdevivero@gmail.com