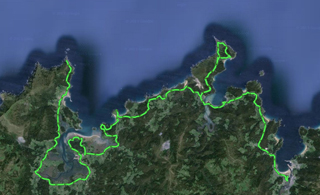 Today is an excellent day, and the slopes expected for this stage are not hard, but for the ones up Cape Ortegal. I leave Viveiro heading to the western coast of the sea inlet, and I pass by villages that are not very populated, up to O Vicedo and Bares, a very nice bay we have to circle. From there, we will turn to Barés and get to the sea inlet of Ortigueira.
If it is possible, it is worth visiting the natural park of Ortigueira, a quick trip with certain landscape interest. Circling Ortigueira, we find many villages with restaurants and tourist facilities, which gradually fade away as we go northwards, up to Cariño, a town we will have to cross before getting to the shrine of San Xiao de Trebo, and then Cape Ortegal. Cape Ortegal lighthouse is 200 m above sea level, and it is a spectacular place with the oldest rocks in the Iberian Peninsula, and where we find the beginning of the GR 50 hiking route, "Rota do Medievo", very well known in Galicia.
The GPS track ends in San Xiao de Trebo, not in my day's final destination, and it somehow connects to the track in tomorrow's stage. We should bear in mind that we have to go up San Xiao de Trebo to connect with the other track, but depending on the town in which we spend the night, we can find different paths to get to Santo André de Teixido tomorrow. In Cariño, I've been told that we will likely be allowed to spend the night bivouacking in the surrounding area of San Xiao de Trebo.
As regards accommodation, I had planned to go back 18 km to sleep in Ortigueira, since today is Saturday and next week is one of the best known folk music meetings in Europe, the Celtic Festival: http://www.festivaldeortigueira.com Finally, I have gone to the town, but I haven't seen any festival atmosphere yet. I will spend the night in a hostel called "La Perla". It has been one of the best stages of the entire trip, very comfortable and fun.
Stage 37 in Wikiloc: http://en.wikiloc.com/wikiloc/view.do?id=4973627
GPS Track for Stage 37 download: http://goo.gl/4xIFIK
Distances: Viveiro campsite – Cabo Ortegal 95 km.
List of villages:
Covas
San Román de Vale
O Vicedo
Porto do Barqueiro
O Porto de Bares
O Vila de Bares
Bares
Loiba
Cerdigos
O Porto de Espasante
O Mosteiro
Barbós
Miñano
Ortigueira
Miudelos
Cancelo de Aló
Cuiña
Ribados
A Casanova de Arriba
A Ponte de Mera
Viñán
Veiga
Condomiña
Reboredo
A Ortigueira
A Basanta
A Castañeira
Cariño
Price of accommodation: 20 euros.
References: Pensión-Residencia La Perla. Avenida de la Penela s/n. 15330 Ortigueira. Tel. +34.981400150 / +34.981400151