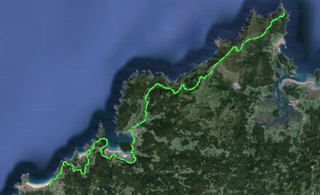 I pedal again until I am near Cape Ortegal, and I cross the peninsula to go up to Teixido along Ruta dos Miradoiros. There is a wet forest and paved forest trails which lead us to the shrine of Santo André de Teixido, near the highest cliffs in continental Europe, and the wind hampers going by bike, but it is worth seeing, at least on foot. There is a popular saying — "A Santo Andrés de Teixido vai de morto o que non foi de vivo", that is, those who couldn't visit San Andrés de Teixido when they were alive will go there after death.
You go up about 530 m to Teixido, but halfway there, the whole section starts having mild slopes up and down tending to go down to the beach in Cadeira, and it is all quite even until the end of the stage. The first part of today's stage is unforgettably beautiful: Teixido, Mount Capelada, the viewpoints, the mountains that go down to Cedeira, etc.
From Cedeira, you can see the water from the roads that follow the coastline, up to Mirador do Paraño, very close to the beach campsite "A Lagoa", where I spend the night.
Stage 38 in Wikiloc: http://en.wikiloc.com/wikiloc/view.do?id=4973634
GPS Track for Stage 38 download: http://goo.gl/TYE8A9
Distances: Cabo Ortegal – A Lagoa campsite 51 km
List of villages:
Rabadán
Corveiro
A Graña
A Corredoira
Vilas
Magoira
Malde
As Pontigas
Cedeira
O Barra
Campo da Cruz
Campelo
Pedralba
O Puntal
As Ferrerias
San Xiao
A Gabeira
O Freixo
A Ramalleira
O Talieiro
Marnela de Arriba
A Lagoa
Ladeira
Price of accommodation: 8.6 euros.
References: Camping A Lagoa. Praia A Fouxeira. 15552 Valdoviño. Tel +34.981487122. www.alagoacamping.com