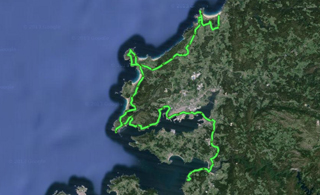 Today, daybreak was sunny. I leave the campsite taking secondary roads, I pass by the A Frouxeira pond, and after As Gorgas, I get to a forest trail which is very badly maintained, so I have to drag my bike for quite a few kilometres until I reach a flat top hill about 300 m high, called A Lagoa. In the middle of the plain, there are ruins of military bases and a geodetic survey monolith, everything very curious and different from what I have seen so far. The routes cross the hills and get to beach towns, such as A Fonte da Tella.
I get to Fontá by mistake, but I take a picture of the Quixote that dominates the entrance of the town, and I come back to the northeast roads, intending to go to Ferrol following the coastline. I get to Ferrol and go on by the sea inlet until I enter the city and cross it up to the bridge over the sea inlet. Then I use a section of the English Way of St. James to travel along suburbs and avoid sections by road. Anyway, I end up entering the N-651 to get to Cabañas and, from there, go to Pontedeume. From Pontedeume to the Ber beach, there are four kilometres that are not hard at all.
There are two campsites. I will stay in the one closer to the beach, called "Camping Ber – A Marola" because it is cheaper and it has new facilities built this year. The owner tells me that "Ber" was turned into Galician, but it actually comes from the Spanish verb "Ver" ("to see"), and it originated from how the beach is geographically oriented: ships going to America centuries ago passed in front of the beach to take geographical references and align with their final destination.
As a whole, I may have pedalled for about 100 km, but it hasn't been hard, because the slopes are mild, although the temperature has been high throughout the day.
Stage 39 in Wikiloc: http://en.wikiloc.com/wikiloc/view.do?id=4973640
GPS Track for Stage 39 download: http://goo.gl/mKcGNW
Distances: A Lagoa campsite – Ber campsite 99 km
List of villages:
Lago
Montefaro
Baltar
O Grandal
A Pedreira
As Gorgas
A Fonte da Tella
Vila da Area
O Outeiro
Fontá
O Pieiro
O Confurco
Cariño
San Cristovo
Brión
Malata
Ferrol
Perlío
Pereiro
O Chao da Aldea
Cabañas
Pontedeume
Boebre
Price of accommodation: 6.8 euros.
References: Camping Ber – A Marola. Praia de Ber, 15607 Boebre (Pontdedeume). Tel +34.981438500 www.campingber.es