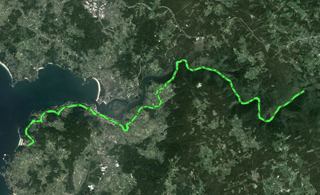 This stage wasn't planned, but since I am only 20 km away from the monastery of Caaveiro, I've decided to go up there and visit the forest of river Eume. It will be the third forest I visit after La Garrotxa and Irati. It is a circular tour about 40 km long which can be planned for a whole day, and I have included it here as if it were another stage.
As Fragas do Eume is one of the natural paradises of Galicia. It is made up of the Natural Park Fragas do Eume and the complex of the Mosteiro de San Xoan de Caaveiro. All this is one of the last bastions f the traditional Atlantic forest, and is worth visiting if you follow this route along the north of Iberia or if you go near Ferrol, Corunna or Pontedeume, in the mouth of river Eume.
If you go there, you can go up by bike to the monastery, and from there follow one of the scheduled hiking routes. You have to leave the country and go to the entrance of Pontedeume along the AC-144. After two kilometres, you have to turn left and take the little village road CP-6902 towards Chao de Ombre. On the way, there is a very well known fountain, and at the end of the road, you can find the Natural Park. When cyclists get there, they can go up to the monastery, which can be visited freely, and where we can also find a bar & restaurant.
Learn more about Fragas do Eume: http://en.wikipedia.org/wiki/Fragas_do_Eume
Stage 40 in Wikiloc: http://en.wikiloc.com/wikiloc/view.do?id=4973648
GPS Track for Stage 40 download: http://goo.gl/iOCrel
Distances: Ber campsite – Pontedeume – Fragas do Eume and back 37 km