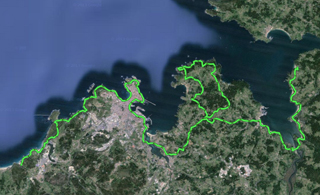 This stage is long but easy, and has amazing landscapes. The first part, about 20 km long, circles the sea inlet of Betanzos up to the beach of Sada, and is done along roads next to the beach. From Sada, we take roads that lead us to the end of the coast of Dexo, and we go down towards Corunna. Most routes have nearby towns, but our route avoids urban zones as far as possible.
From the town of Perillo, the route will be completely urban until we leave A Coruña, that is to say, a total of 20 km. Our route uses the bike lanes of the city perimeter: the one of the harbour, the old streetcar, the one of the lighthouse, and the one of the sea path that takes us to the outskirts of Corunna, to Estrada Bens.
In Estrada Bens, we will pass by the water treatment plant, which smells pretty bad, then by the seafood reprocessing factories, inhabited by a group of seagulls, and finally by a quarry next to the beach. From that point, we will take a forest trail which will lead us near Arteixo, to a place called Valcovo beach, where there is a campsite with a similar name.
The campsite isn't wonderful, and you have to pay for hot water in the shower, but there are no other campsites many kilometres around, and I have no choice but to accept it.
Stage 41 in Wikiloc: http://en.wikiloc.com/wikiloc/view.do?id=4973656
GPS Track for Stage 41 download: http://goo.gl/k48UEE
Distances: Ber campsite – Balcobo campsite 90 km
List of villages:
Boebre
A Herbosa
Perbes
Río de Bañobre
Miño
A ponte do Porco
A Insua
Montecelo
Gandario
Sada
Chaburro
Mosteirón
Piñero
Veigue
Suviña
Cabreira
O Batán
O Seixal
Perillo
A Coruña
Rañobre
Rañal
Price of accommodation: 10 euros