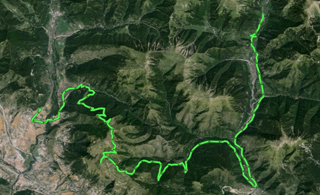 From Torla to Fiscal, you go by road, a section that is about 20 km long and is completed quickly, but one of the hardest stages of the whole Trans Pyrenees Route starts in Fiscal. The main reason is the conditions of the forest trails, which are very damaged by the effects of winter.
From Fiscal to Senegüé, in June 2013, we basically find tracks full of mud and loose rocks and soil, and cycling is only possible in areas of compacted soil, which cannot be found at all from an altitude of 1,600 m. From Santa Orosia shrine, where there is a water source, and 20 km from there, there are very few trails that are suitable for cycling and the stage becomes very long.
All this made me spend a lot of time in the highest part of the stage, Oturia crag, and I have to spend the night at an altitude of 1,700 m with the tent. The next day, it took me three hours to get to Senegüé, although all the way is descending or even, but it is full of branches from the forest cleaning, water, and quite many centimetres of mud in all the shady areas.
In Senegüé, I enjoy the day resting and staying in "Valle de Tena" campsite, the one I wanted to reach the previous day.
Stage 16 in Wikiloc: http://en.wikiloc.com/wikiloc/view.do?id=4973432
GPS Track for Stage 16 download: http://goo.gl/1v09vh
Distances: Río Ara campsite – Valle de Tena campsite  68 km
List of villages:
Torla
Fiscal
Bergua
Casbas
Oliván
Larrede
Senegüé
Price of accommodation: 9.5 euros.
References: Camping Valle de Tena. Ctra. 260, km 513-460. 22666 Sorripas – Senegüé. Tel. +34.974480977 www.campingvalledetena.es