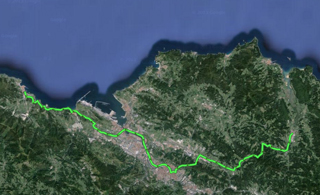 I go from Gernika to Castro Urdiales, that is to say, the last third of Euskadi to the first town in Cantabria.
I travel the first kilometres after leaving Gernika by road, but then I get into the forest trails used in the Way of St. James. They are in poor conditions, due to neglect and persistent rainfall, so it is very hard to pedal up to Bilbao.
I cross Bilbao and take the road towards Getxo, following the sea inlet for about 15 km. In Getxo, I cross the sea inlet and go to Portugalete using the emblematic Bizkaia hanging bridge, the world's first mechanical transporter bridge.
From Portugalete to Castro Urdiales, there is a magnificent and really long bike lane which ends in a greenway, so for 20 km, it is not necessary to worry about traffic or surface conditions, because it is a bicycle-specific pavement. In Castro, I will stay in a pilgrim hostel because, although it is a little late, it is not full and it seems to have a nice atmosphere.
Stage 26 in Wikiloc: http://en.wikiloc.com/wikiloc/view.do?id=4973513
GPS Track for Stage 26 download: http://goo.gl/U2v9nH
Distances: Youth hostel Gernika – Pilgrim hostel of Castro 75 km
List of villages:
Gernika-Lumo
Muxika
Ugarte
Andra Mari
Goikoetxea
Larrabetzu
Lezama
Zamudio
Bilbao
Getxo
Portugalete
Muskiz
Castrro Urdiales
Price of accommodation: 5 euros.