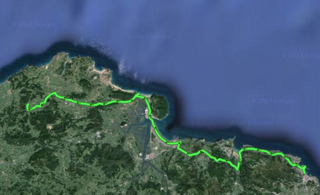 First stage only via Cantabria. The first section is about 15 km long, along tracks that follow the coastline and are not very suitable for cycling, so it is difficult to ride the bike although there are no steep slopes.
From Islares, you take a road and the experience gets much better. Then you go down to Laredo, and from there, you go to Santoña on a little water-taxi. The coastal town of Santoña is a perfect place to eat seafood. From Santoña to Güemes, all the landscapes are mountainous, and we won't see the beach again during today's stage.
In Güemes, I stay in a lodge called "La Cabaña del Abuelo Peuto". It is owned by the priest Ernesto Bustio. It is open to pilgrims and has permanent volunteer activities for the Third World. This is said to be one of the best lodges to be in contact with pilgrims, and it may be true if we compare it with most hostels that can be found in Cantabria or Asturias, less maintained than those in Euskadi or Galicia.
"La Cabaña" has special routines: At 7 p.m. every day, there is an informative talk in Spanish, and occasionally in English, to tell about the life of its founder, the origin of the lodge, the type of activities developed there, and to ask guests to be generous in their voluntary donations to maintain the lodge.
Stage 27 in Wikiloc: http://en.wikiloc.com/wikiloc/view.do?id=4973522
GPS Track for Stage 27 download: http://goo.gl/WyNqFM
Distances: Pilgrim hostel of Castro – La cabaña del abuelo Peuto 55 km
List of villages:
Castro Urdiales
Allendelagua
Cerdigo
Islares
Nocina
Oriñón
Mollaneda
Iseca Vieja
Laredo
Santoña
Piedrahita
Argoños
Cerecedas
Castillo Siete Villas
San Miguel de Meruelo
Bareyo-Ajo
Güemes
Price of accommodation: voluntary contribution.