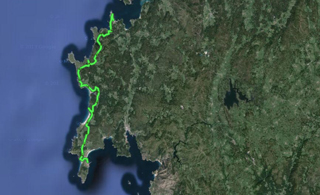 This is the last stage of our route, and it is short and nice to do. Then, we have different alternatives to leave Costa da Morte, although I will go to Santiago de Compostela by road, and there I will use public transports to go back to Catalonia.
I leave Muxía a little late because I have to fix a flat tire, and due to the delay, I meet a guy who is a member of Traski (see Resources), a mountain group promoting hiking routes along Costa da Morte following the paths I have followed on my way here.
I start going down to Muxía, along Cape Touriñan and the following beaches, a place that is quite isolated from usual tourists, mostly from the Way and going along other interior routes. Our route runs opposite to the one followed by pilgrims, and for more than half of the way, we won't meet pilgrims.
From Lies, in the middle of today's stage, we start travelling along pilgrimage tracks, and we meet many people walking in the opposite direction. A few kilometres before Fisterra, we divert rightward and enter the town on the west, through San Martiño, just opposite to the pilgrims' entrance.
I sleep in Fisterra's public hostel, and I go out at night to celebrate that I have finished my 44 day bicycle trip, plus the days I spent sightseeing or resting in a campsite or hostel. I have discovered one of the destinations that should be emblematic for pilgrims in Fisterra: the library-bar A Galeria, owned by the Galician writer Roberto Traba Velay, a person I am happy to have met.
If you have been patient enough to read this travel log so far, I sincerely thank you, and if you are interested in telling me something, you can use the comments system or enter de section "About me", and send me a message. I hope you enjoyed the reading, and I encourage you to use this route to plan a similar trip and discover hundreds of places, and even other places I couldn't visit.
Stage 44 in Wikiloc: http://en.wikiloc.com/wikiloc/view.do?id=4973684
GPS Track for Stage 44 download: http://goo.gl/KJhH3A
Distances: Muxía – Fisterra 48 km
List of villages:
Muxía
Lourido
Cuño
Martineto
Viseo
Moreira
Touriñan
Talón
Santo Estevo de Lires
A Canosa
San Martiño
Fisterra
Price of accommodation: 6 euros.
References: A Galería, library-tavern. Rua Real, 25. Fisterra.