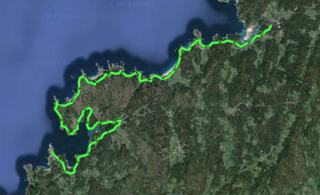 I go to Ponteceso from Filgueira, and go on towards Muxía along the planned coastal route. This stage becomes long and is complicated in several points, since it has trails that are not suitable for cycling, coastal forest trails, and coastal roads.
There is a hard slope before Laxe, and other hard slopes before Cape Villán, but the highest difficulty is posed by the constant slopes up and down which can wear us out. On the other hand, this stage has very few urban areas, and we can see the spectacular landscapes of Costa da Morte and the end of the Way of St. James: Muxía.
In Muxía, it is worth visiting Punta da Barca, with the sanctuary and its ancestral stones, the harbour and Mount Corpiño.
If you take a look at Camino de Santiago > Finisterre and Muxía, you will find additional information about this town and the Way. If we have been collecting stamps for our credential for the last few days, although they are from campsites or coffee shops, they will let us sleep in Muxía's public hostel, which has very good facilities and a very nice atmosphere. With the stamps on our credential, they will also give us a certificate stating that we have reached the end of the Way.
Stage 43 in Wikiloc: http://en.wikiloc.com/wikiloc/view.do?id=4973679
GPS Track for Stage 43 download: http://goo.gl/A7dLs3
Distances: Ponteceso – Muxía 80 km
List of villages:
Ponteceso
Neaño
A Carballa
A Telleira
As Grelas
Os Castros
Taboido
San Pedro
A Cruz de Cabalo
Frexufre
O Cabo de Area
Os Peñascales
Laxe
Mordomo
Camelle
Arou
Camariñas
As Carballas
O Cruceiro
Tasaraño
Dor
O Allo
A Ponte do Porto
Porto de Cereixo
Leis de Nemancos
Merexo
Os Muiños
Chorente
A Baiuca
Muxía
Price of accommodation: 6 euros.